Avery convenient water tap that saves your water consumption while providing an innovative service.
Introducing a product that will not save you from water usage in a very handy way. We are happy to offer you the ROTATING SPLASH CONTROL FAUCET.
Rotating Splash Control Faucet is an INNOVATIVE ROTATING SPLASH-PROOF TAP with TWO KINDS of WATER OUTLET for a CONTROLABLE SPLASHING and WATER USAGE. It is made of HIGH-QUALITY material making it SUPER STRUDY and DURABLE to use. It has OXYGEN-ENRICHED FOAM that EFFECTIVELY CONTROLS the WATER making it SPLASH PROOF. It has FOUR LAYER NET FILTER that REMOVES the IMPURITIES making your WATER SAFE and NON-TOXIC.
Rotating Splash Control Faucet is ROTATABLE to 360° making it VERY HANDY to USE in the SINK for a MESS FREE water usage. It is PERFECT for WASHING FACE and GARGLE. It has a LASER PERFORATED TECHNOLOGY that HELPS SAVE 35% WATER and INCREASE 200% PRESSURE. It does not RUST and produce BAD SMELL. It is EASY to CLEAN and can last a long period of time.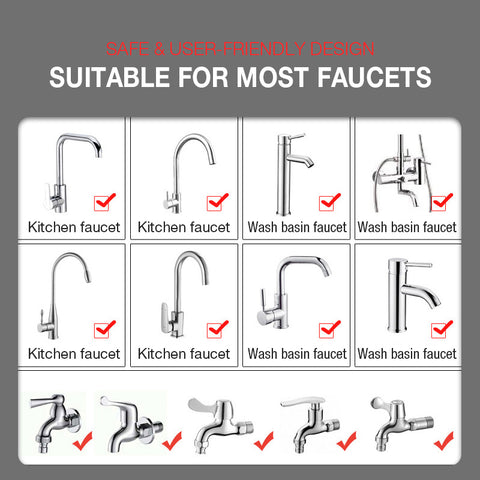 SPECIFICATIONS
MATERIALS
PRODUCT WEIGHT

Weight with Packaging: 108G


PRODUCT SIZE
(L X W X H)

Product Size : 15 × 8 × 5cm / 5.9 × 3.1 × 2inches

PACKAGE CONTENTS

Rotating Splash Control Faucet