Having BIG WINDOWS gives a VIBRANT and COMFORTABLE VIBE to your house but it can also lead the SUNS HEAT inside and have YOU and yours BELONGINGS EXPOSED to passers from the outside.
Introducing the SUNSHADE PRIVACY FILM, a SUN and PRIVACY PROTECTOR for your lovely home.
SUN Shade Privacy Film is an ANTI-GLARE WINDOW FILM that SHIELDS OUTSIDERS from SEEING your HOME BELONGINGS and WHERE ABOUTS inside the house.
It NATURALLY PROTECTS you from THEFTS. This SHADE can also BLOCKS ULTRAVIOLET RAYS from the SUNS HEAT that PROTECTS your SKIN and PREVENTS FURNITURE, FLOORING and WALLS from FADING that is CAUSED by the UV RAYS.
SUN Shade Privacy Film
has an
EXCELLENT THERMAL INSULATION
effect that IMPROVES the
ENERGY USAGE
as it can
BLOCK 85%

of INFRARED RAYS and RETAIN HEAT
in the WINTER and KEEP it out in SUMMER.
It has

ANTI-SCRATCH LAYER

on the SURFACE making it DURABLE and FRICTION RESISTANT. It DOES NOT

FADE or BLISTER

.
SUN Shade Privacy Film is NON-ADHESIVE as it has GLUE FREE DESIGN and NO CHEMICAL RELEASE making it SAFE and NON-TOXIC. The PRIVACY EFFECT is REVERSED at NIGHT since the INTERIOR will be EXPOSED to more LIGHT than the EXTERIOR. It is EASY to INSTALL and REMOVE.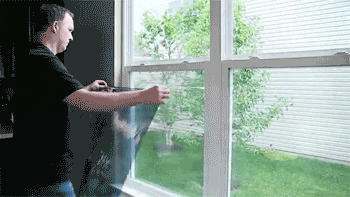 SPECIFICATION
Size: 40 x 100cm/ 60 x 100cm
Thickness of Base Film: 2.0MIL
Colour: Tea Silver/Blue/Green/Magic Black
Visible Light Reflection: 30%~40%
Infrared cut: 80%~88%
Package Includes: 1 xWINDOW SHADE PRIVACY FILM